Kitchen Flooring Tiles
Finding the perfect floor for your kitchen means it must be stain resistant, durable, sustainable, waterproof, and stylish. Emerson Carpet One Floor & Home can help you find what you need for your kitchen. As a homeowner, there is no doubt you spend a lot of time in your kitchen, whether it be for cooking or entertaining guests. The last thing you want is to be embarrassed by your outdated floor. Not only does it become the sore eye of your home, but results in constant clean-ups to prevent further damage and stains.
So why tile? You may think tile is outdated, but at Emerson Carpet One Floor & Home, we beg to differ. Not only is tile available in stone, ceramic, and porcelain, but incredibly gorgeous and timeless finishes. Tile flooring easily pulls together a kitchen with its natural beauty. If you don't believe us take a look at our available tile flooring options.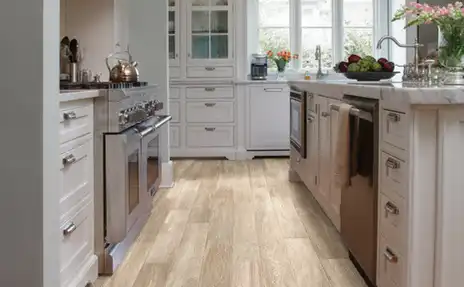 What is the Best Kind of Tile for a Kitchen Floor?
In general, tile flooring continues to be a stand-up floor for homeowners due to its natural stain resistance, durability, and waterproof seals. Tile flooring is an investment you will feel good about, because it is considered to be the most durable floor available. Not to mention, a floor that is naturally resistant to stain and water means you will never have to worry about its capabilities. When it comes to kitchen tiling, you can feel comfortable knowing that no matter what type of food or liquid hits the floor, it won't be an issue.
Which Tile is Most Durable for a Floor?
Besides the many styles of tile, it is also versatile. If tile flooring isn't what you are looking for, you many also consider it as a backsplash in your kitchen. With many colors available, tile is a perfect way to add a pop of color to your kitchen. Additionally, tile is also used for showers and accent walls.
To learn about tile flooring in your kitchen, contact Emerson Carpet One Floor & Home today, or visit our showroom in Baton Rouge, LA.